Eucharistic Adoration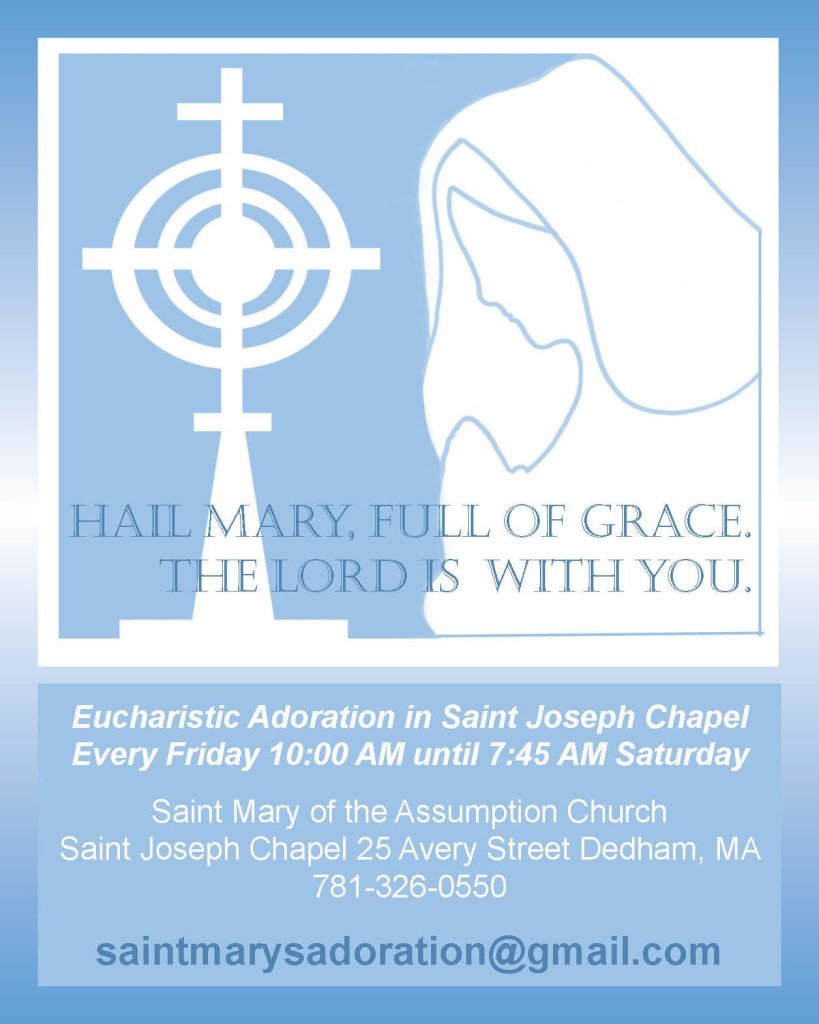 Come away awhile and rest.   The heart of a parish is the Eucharist.  A parish comes alive when it is centered on Jesus.  What do you actually do during adoration? You may sign up to be an "adorer" which allows you to schedule yourself for one or more hours per week to pray before the very presence of Our Lord, exposed in the monstrance. It means that you can have some time alone with Jesus to pray or just sit and rest in His presence.  You simply keep Him company, just as you would with a dear friend.  Prayer is conversation with God.  Every hour you spend with Jesus will deepen His peace in your heart.
Can you come and spend an hour with Jesus?  Fridays from 10:00am until Saturday 8:00am.
"Come to me, all you who labor and are burdened, and I will give you rest."  Matthew 11:28
Contacts:  Mary Burton-(781-326-0890), Marisa Donatelli-(617-719-4806), or Nancy McCormick-(781-326-8946) [staff]
International Family Rosary
First
Friday
of every month.  Holy Hour from
7:00-8:00 pm
in Saint Joseph Chapel.
Come with your family to pray and hear the Rosary prayed in English and in other languages.
Contacts: Mary Burton 781-326-0890 and Marisa Donatelli 617-719-4806
St. Mary's Prayer Line
A community of pray-ers that pray for the intentions that are phoned in to the Parish Center daily. The Prayer Line is available for calls 24 hours per day 7 days per a week.  Volunteers are needed to check the line periodically and log prayer intentions into our intention book.
Lord grant all those on St. Mary's prayer line your protection and grace.  Give them health of mind and body and make them faithful to you. Amen.  Phone prayer requests to (781) 326-0550 and press 5.
Contact:  Audrey Pugliesi[staff]
First Saturday Devotions
Devotional prayers offered the first Saturday morning of each month after the 8:00am Mass in the St. Joseph Chapel.
Contact:  Lorraine Loewen (781) 326-7163[staff]
Charismatic Prayer Group
Meets every other Thursday in St. Joseph Chapel for Rosary, witness talks, scripture readings, adoration, praise and worship and praying with people for their individual intentions and for the gifts of the Holy Spirit to come upon them.  Prayer is in the Holy Spirit  and is free flowing.
Contact:  Judy Stivaletta
The Family Rosary
This ministry is dedicated to bringing families and individuals together for prayer and fellowship. We meet to pray the Holy Rosary on the last Saturday of the month at 5:10pm (following the 4:00 Mass). We often gather afterward for informal refreshments and camaraderie. During the cold weather we meet inside the church by the statue of the Blessed Mother. During the warm weather we meet on High Street by the statue of the Blessed Mother in front of the church. Praying the Rosary is a wonderful family activity and one which is encouraged by Our Lady and both Pope John Paul II and Pope Benedict XVI. All are welcome!
Contacts:  Deacon Kelley and Nancy McCormick